...watch Kawawada Minoru Sensei (shiro) as he displays the attributes of a very well trained Karateka: calm and settled but in a high state of readiness. With perfect timing he explodes into action using the only option - Ippon Waza. This is
Are You Considering Karate
...
?
Cool. If you go ahead you will...
really get to know yourself
handle confrontation a lot better
take control of your body and mind
Violence, bullying and crime are definitely not what they used to be!
More than ever in our homes, schools, workplaces and out on our streets, bad guys are still messing with people's minds, bodies and property.
Targets are now softer, rewards greater, and now it's easier than ever before to get away with...
---
Your Entitlement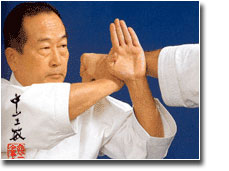 As a peaceful citizen, you deserve to have the tools to take anything that comes your way - in your stride.
It is your entitlement to be...
- Safe
- Confident
- Fit, Healthy and Successful
And... as good as you want to be at this fantastic global Martial Art!
---
Imagine...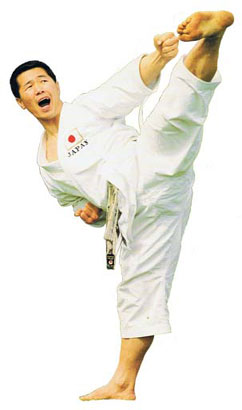 ..if you had everything you need right now at your fingertips to be all this and be exceptional at the most popular Japanese martial arts styles.
Imagine having your own personal Sensei highly trained in arguably the deadliest style of martial arts. Imagine if he was always there, patient and full of cool information and advice - just for you!
If you want to learn to protect yourself, excel at Karate techniques, or just keep in shape, you will soon have all the benefits of the best Lessons, Technical Tips and Tools learned from our Shotokan masters.
That's nearly 4 decades experience.
Our aim is to cram more quality stuff into one site than you will find anywhere else on the net... if it's not here - tell us and it soon will be.
---
Learn and Be Inspired
We've inspired and given confidence to generations of boys, girls, men and women. We've coached from novice to Black Belt and beyond. Now we will show you how to fast-track your progress. We can help you...
- Choose the right school and get started
- Find quality gear and equipment
- Perform the basic Karate moves
- Help you become assertive enough to defend yourself...
And if you're already training - great - we will show you how to...
- Optimise your Karate techniques
- Memorize and perfect your Shotokan kata
- Improve your kumite and fighting ability
- Get better at stretching
- Pass gradings and
- Achieve better results in Martial Arts tournaments
---
Get it Here
Now you can accelerate your progress with one-to-one personalized lessons by a 6th Dan Black Belt Instructor
Start with FREE ADVICE on your Shotokan kata, Karate Blocks, Kicks, Strikes, Stances - or any aspect of this deadliest style of martial arts.
Maybe you're just looking for Kata Videos, Books, Belts, Uniforms, Sparring Equipment, Weapons or Mats.....you might want to know more about the history of the art or its masters past and present.
Whatever you need, the knowledge and resources to hone your skills both inside AND OUTSIDE of the dojo are now within your reach.
It's time to... get far more than a kick out of your Karate!
Ready?
Let's go...