...and Warriors !
The days of girls doing Karate purely for exercise are over. A Karate Woman used to be the
tomboy in the front row
, the beauty that loved the attention, or the mother who wanted to know a little
female self defense
.
These days the number of female martial artists is comparable to males. Female fighters have stepped out of the 'safety' of the Karate and Judo dojo into boxing gyms and, courageously, they're now getting it on in the big melting pot of mixed martial arts.
---
Karate Girl
Karate is now an extremely popular mainstream activity. A typical kids Karate class will have as many girls as boys.
Kids as young as 4 or 5 are doing all Karate styles some of them are exceptionally talented.
Training to perfect Karate technique is an ideal sporting discipline. A highly skilled Karate girl is every bit as focused and coordinated as her counterparts in Olympic gymnastics.
The difference is that she has knowledge of Karate basics particularly Karate blocks. The Karate girl gets to take home a very practical method of dealing with confrontation.
---
A Skilled Karate Girl is...
Self assured but not arrogant
Fit, healthy and bursting with life
Capable of handling herself if attacked
Clear and focused at school, at home and "outside"
Qualified to be among the ranks of the true female martial artists
---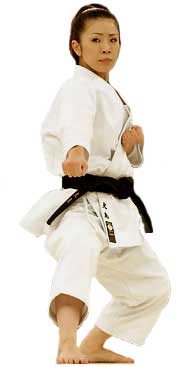 Karate Woman
Karate Woman has a nice ring to it. It screams confidence. Real Karate women are highly capable, focused and a picture of health.
Japanese Karate used to be a man's world.
But that's changed...
..Now female martial artists from all types of Karate get respect for what they do. And we are not just talking about pretty Karate katas. The Karate woman has far more to her than that.
If she ever has to use her skills, chances are it would be against a male aggressor - so she has to be good..
You don't hear much about assaults by women on women - or on men for that matter! But Karate has a lot of very good female fighters.
A Karate woman may be smaller and lighter on average, yet she will be quicker and able to use her smaller frame to generate far more destructive power than a regular guy.
Confrontation needn't wind up in physical violence. A Karate woman, more than a man, has the advantage of using her skills to 'disarm' by removing or asserting herself before a threat becomes an assault. This is the first rule of female self defense and a lesson for all women...
To Avoid Physical Violence - Just Don't Be There!
Women have the innate ability to totally avoid the use of force against them. Good Karate training adds the elements needed to calm or subdue an aggressor and restore peace.
---
MMA Women
Womens MMA is seriously popular. Seems the 'little sisters' of the MMA guys are no longer content to sit in the crowd.
Just when we were getting used to men pummeling each other in the brutal world of cage fighting along comes a new wave of female fighters - training hard, talking tough and ready to mix it with anyone.
Female fighters are not only coming to mixed martial arts from traditional Karate styles - most are starting from scratch. In fact, a trad background may not help because MMA women are doing real female combat.
Womens MMA Is Not a Sideshow
MMA women are a mix of street smart determination and real fighting ability.
Womens MMA pro ranks are swelling by the day - their names and faces are all over the web and MMA media. They have won the respect of the toughest fighting guys and the best informed fight crowds in the world.
---
Female Fights
Female fights aren't pretty. If a sharp point-scoring Karate Woman gets her fair share of bumps in a 'non-contact' bout, imagine the pain of a punishing womens MMA contest. When it comes to the heat of virtual no-holds barred womens MMA, the rules we associate with 'normal' women's sport don't apply.

You don't see crisp white uniforms and compliant partners in real female fights. Under the right circumstances female fights are a great test of skill. Full contact female combat such as we see in the various Mixed Martial Arts, Boxing and some forms of Karate, takes a special kind of woman...
---
Sensei Naomi Ali (nee Wood)...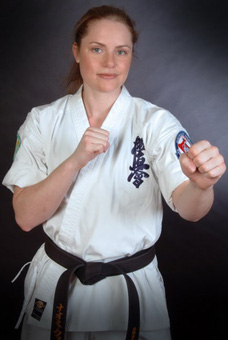 Women and girls have more 'fight' in them than men - that's a fact of nature. It comes with the protective instinct of being a female. As primary care-givers to the young, if pushed, women will usually defend their kids and themselves no matter what it takes. Most women are brave indeed - maybe braver than men.
Organised female fights are now a reality. In an amazing display of combat ability, Australia's Sensei Naomi Wood added her name to the true elites of Kyokushin Karate by becoming the only female ever to complete the 100 "Man" Kumite test. Naomi is also the first person who has done so fighting only black belt opponents!
As long as women assert their right to equality, they will always be prepared to test their combat skills. As long as safety comes first, there's a great future ahead.
---
Some of the World's Top Female Fighters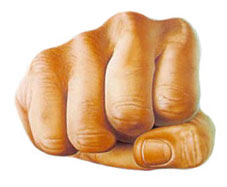 Naomi Wood - Karate
Megumi Fujii - MMA
Jennifer Howe - MMA
Hagar Finer - Boxing
Eva Bisseni - Judo
Jeannine Garside - Boxing
Satomi Okuie - Karate
Yuko Takahashi - Karate
Kyra Gracie - MMA
Gulsah Kosaturk - Judo
Shana Olsen - MMA
---