You have practiced JKA Karate for years, or maybe you are a former member with the urge to return to training or you might be an interstate or overseas visitor or a parent looking to get your family started in a fantastic new activity..
...if you're interested in JKA Karate - this is the place for you!
Here you'll find a lot of information, like how to become a JKA Karateka or how to continue your training at a JKA Dojo. We invite you to visit us in person to see for yourself why JKA, the Way of Balance is so popular here in Australia and in most countries of the world.
---
Watch JKA Karate in Action...
---
JKA Karate in Australia
Due to the enormous size of our country, JKAWF Australia is made up of JKAHQ authorised administrative regions including;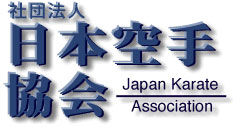 JKA Eastern Region

JKA Southern Region

JKA Western Region

JKA ASKA
Regional and International Co-operation
JKA Australia regional heads and senior instructors work closely with with JKA HQ in Tokyo Japan to foster and promote JKA Karate throughout Australia. JKA Australia stages all national events, participates in JKAWF sanctioned international events and regularly hosts visits by JKA Hombu Dojo instructors. See upcoming major events below...
---
JKA In Melbourne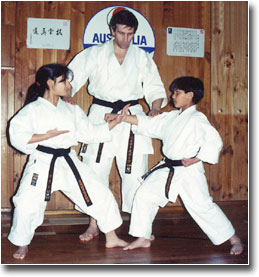 JKA Karate has been established in Melbourne for nearly 40 Years. This site represents JKA Dojos in the Melbourne Metropolitan area and elsewhere in the state of Victoria and Australia.
There's information for our members and visitors, as well as news and views relating to JKA Karate locally and across the world.
You can inquire about training with us or send us your comments and feedback - we'd be happy to hear from you.
---
2015 Major Events
2015 will be yet another year full of world-class activities for JKA members in Australia. Here is a list of the main events - dates to be added as they are confirmed.
Important: Invited guests, JKA senior karateka and any member of JKAWF Australia may participate in the following activities...
Keiko Hajime
Venue: Albert Park Victoria
Date: 8th January 2015
5th Annual JKA Melbourne Invitational Summer Gasshuku
Venue: Mt Evelyn Victoria
Date: January 2015
JKAWF Australia National Championships
Venue: Melbourne Victoria
Date: March 2015
Training with JKA HQ Instructor TBA
Venue: Melbourne Victoria
Date: March 2015
JKA World Federation Spring Gasshuku
Venue: JKA Sohonbu Dojo Tokyo Japan
Date: April 2015

Melbourne Area Dan Grade Examinations
Venue: TBA
Date: Late May 2015

JKA Invitational Winter Gasshuku
Venue: Mt Evelyn Victoria
Date: June 2015
Special Guest Instructor from Japan: T.B.A.
58th JKA All Japan Championships
Venue: Nippon Budokan Tokyo Japan
Date: July 2015
Special Seminar with JKA Honbu Dojo Instructor T.B.A.
Venue: Melbourne Victoria
Date: July 2015
Mildura Gasshuku (The Tradition Continues)
Venue: Cowra Station
Date: September 2015
JKA Honbu Dojo World Autumn Training Camp
Venue: JKA Sohonbu Dojo Bunkyo Japan
Date: October 2015
Camp Victoria JKA Annual Gasshuku
Venue: Mt.Evelyn Victoria
Date: TBA December 2015
Keiko Osame
Venue: Albert Park Victoria
Date: 28th December 2015
---
Why JKA..?
Why should you choose JKA Karate? There are plenty of great reasons...
Find them here
---
2015 JKA All-Japan Kumite Champion
Nemoto Keisuke
---
Results of 12th Funakoshi Gichin World Karate-Do Championships
Formerly the "Shoto World Cup" the 12th Funakoshi Gichin World Karate-Do Championships were held from 18th - 21st August 2011 in Pattaya Thailand.
Once again the Japanese contingent dominated the tournament winning every major event. It is highly unlikely that another country will ever match Japan's very impressive run for high technical standard and sheer consistency over time. Congratulations to Japan and to the other countries and individuals who achieved minor placings.
12th Gichin Funakoshi World Karate-Do Championships
Kumite
Kata

Men Individual
1st
Japan
R. Iimura

1st
Japan
K. Kurihara
2nd
Japan

K. Chubachi
2nd
Japan
N. Maruoka
3rd

Japan
K. Nemoto
3rd
Japan
H. Hukuhara

3rd
Russia
A. Mazurov
 
 
 

Men Team
1st
Japan

1st
Japan
2nd
Brazil
2nd

Canada
3rd
Canada
3rd
Italy

Women Individual
1st
Japan

A. Isiduka
1st
Japan
N. Oshima
2nd

Sweden
G. Akdag
2nd
Japan
M. Nakamachi

3rd
Russia
A. Sergeeva
3rd
Japan

S. Hukasaku
3rd
Venezuala
J. Quiroz
 

 
 
Women Team
1st

Japan
1st
Japan
2nd
England

2nd
Germany
3rd
Germany
3rd

England

<![if supportMisalignedColumns]> <![endif]>
---
JKA All Japan Tournment Results 1957 - Now
The JKA All-Japan Karate-Do Championships have been held continuously since 1957. In that time the rules have changed very little. Here are the results in both the Individual Kumite and Kata Divisions for both Men and Women. Note, there are no weight divisions in JKA.
 
 

Kanazawa

Tsuyama

Nakamura

Shoji

Sakamoto

Koyama

 

Kanazawa/Mikami

Nakamura

Kanazawa

Mikami

Saito

 

Mikami

Kanazawa

Sato/Shirai

Mikami

Kanazawa

Saito

 

Sato

Mikami

Asai/Iwaizumi

Shoji

Mikami

Kanazawa

 

Asai

Shirai

Mikami/Enoeda

Mikami

Asai

Shirai

 

Shirai

Enoeda

Mikami/Yaguchi

Shirai

Mikami

Iwaizumi

 

Enoeda

Shirai

Kanazawa/Yaguchi

Asai

Iwaizumi

Nakaya

No Tournament Held Due to Hosting of Tokyo Olympic Games

 

Kisaka

Ueki

Miyazaki/Ochi

Ueki

Ochi

Shinokuma

 

Ochi

Tabata

Takahashi

Ochi

Ueki

Takahashi

 

Ochi

Oishi

Tabata/Abe

Ueki

Ochi

Takahashi

 

Ueki

Ochi

Tabata/Abe

Ueki

Takahashi

Ochi

 

Oishi

Iida

Ochi/Isaka

Ochi

Takahashi

Isaka

 

Oishi

Takahashi

Yamaguchi/Tabata

Takahashi

Yamaguchi

Takashina

 

Oishi

Ueki

Iida/Tabata

Ueki

Takahashi

Yamaguchi

 

Kagawa

Osaka

Yano/Sasaki

Takahashi

Yamaguchi

Isaka

 

Oishi

Isaka

Tanaka

Takahashi

Osaka

Isaka

 

Tanaka

Sakata

Hayakawa/Sawada

Ueki

Osaka

Takahashi

 

Tanaka

Yahara

Osaka/Kasuya

Ueki

Osaka

Yamaguchi

 

Osaka

Hayakawa

Takahashi/Yahara

Ochi

Kasuya

Naito

 

Mori

Yahara

Iida/Osaka

Osaka

Yahara

Naito

 

Omura

Mori

Yahara/Osaka

Osaka

Ochi

Isaka

 

Mori

Omura

Imura/Yamamoto

Osaka

Yahara

Isaka

 

Tsuchii

Tatetsu

Mori/Sakata

Osaka

Yahara

Imura

 

Sakata

Mori

Yamamoto/Yahara

Osaka

Yahara

Aihara

 

Yamamoto

Imamura

Kagawa/Furukawa

Osaka

Yahara

Fukami

 

Yamamoto

Kagawa

Yahara/Ogura

Yahara

Kagawa

Kojima

 

Kagawa

Ogura

Tatetsu/Kawawada

Kagawa

Aihara

Kojima

 

Ogura

Imamura

Hashiguchi/Omura

Kawawada

Imura

Ohta

 

Yokomichi

Shiina

Imamura/Kawawada

Kawawada

Aihara

Hashiguchi

 

Imamura

Kagawa

Koike/Iwamoto

Hashiguchi

Imura

Kagawa

 

Kagawa

Imamura

Koike/Iwamoto

Aihara

Hashiguchi

Kagawa

 

Imamura

Koike

Hanzaki/Shiina

Aihara

Imura

Hashiguchi

 

Shiina

Hanzaki

Kobayashi/Kokubun

Aihara

Imura

Hashiguchi

 

Naka

Taniyama

Hanzaki/Kokubun

Imura

Hashiguchi

Aihara

 

Shiina

Imamura

Iwamoto/Nakano

Imura

Hashiguchi

Aihara

 

Shiina

Taniyama

Izumiya/Iwamoto

Imura

Hashiguchi

Aihara

 

Taniyama

Ikenaga

Shiina/Takahashi

Imura

Hashiguchi

Aihara

 

Taniyama

Kokubun

Shiina/Kobayashi

Imura

Hashiguchi

Aihara

 

Kokubun

Izumiya

Kobayashi/Ogata

Izumiya

Hashiguchi

Terashima

 

Taniyama

Noda

Ikenaga/Kobayashi

Hashiguchi

Izumiya

Taniyama

 

Kobayashi

Taniyama

Noda/Hanzaki

Taniyama

Izumiya

Takahashi

 

Kokubun

Shiina

Naka/Ikenaga

Taniyama

Izumiya

Shiina

 

Taniyama

Ogata

Shimizu/Takahashi

Shiina

Taniyama

Takahashi

 

Kobayashi 

Taniyama 

Shiina/Ogata

Taniyama

Shiina

Kobayashi

 

Ogata

Sugiyama

Kobayashi/Taniyama

Taniyama

Kobayashi

Ubukata

 

Kobayashi

Okuma

Taniyama/Ogata

Shiina

Kobayashi

Taniyama

 

Ogata

Shimizu

Iizuka/Sugiyama

Kobayashi

Kurihara

Saito

 

Shimizu

Sugiyama

Okuma/Ito

Kurihara

Taniyama

Kobayashi

 

Taniyama

Sugiyama

Kurihara/Okada

Kurihara

Saito

Takahashi

 

Shimizu

Inokoshi

Ogata/Okada

Kobayashi

Saito

Kumeta

 

Inokoshi

Shimizu

Haga/Ogata

Kurihara

Saito

Okuma

 

Nemoto

Shimizu

Kumeta

Kurihara

Maruoka

Saito

 

Kurihara

Kumeta

Iimura/Shimizu

Kurihara

Maruoka

Yoshida

Nemoto

Chubachi

Asano/Okada

Kurihara

Ueda

Maruoka

Nemoto

Inokoshi

Chubachi/Kumeta

Kurihara

Kumeta

Ueda

Iimura

Nemoto

Ueda/Yuzuki

Kurihara

Kurihara

Ueda

Nemoto

Haga

TBA/TBA

Kurihara

Kurihara

TBA

 

Kobayashi

Saito

Ishida

Saito

Hayakawa

Asano

Kawashima

Hayakawa

Hashiguchi

Kawashima

Ushigome

Asano

Kawashima

Osaka

Moriya

Kawashima

Moriya

Hayakawa

Kawashima

Moriya

Yamamoto

Kawashima

Moriya

Hashiguchi

Kawashima

Moriya

Hashiguchi

Moriya

Yamamoto

Ebihara

Nakamura

Yamamoto

Ebihara

 

Hasama

Watanabe

Miki/Tayama

Nakamura

Yamamoto

Ebihara

 

Saito

Taguchi

Kaneko/Yoshii

Nakamura

Tanizaki

Ebihara

 

Kono

Okuda

Yanagibayashi/Hasama

Nakamura

Mimura

Maruyama

 

Kono

Watanabe

Ito/Nakata

Mimura

Nakamura

Kono

 

Yoneda

Yoshimi

Kono/Sasaki

Mimura

Nakamura

Kono

 

Yoneda

Hasama

Ozaki/Baba

Mimura

Nakamura

Akiyama

 

Yoneda

Hasama

Sasaki/Ohama

Mimura

Nakamura

Gunji

 

Kono

Yoneda

Ohama/Hasama

Nakamura

Kono

Gunji

 

Kono

Yoshimi

Hasama/Kobayashi

Nakamura

Gunji

Akiyama

 

Hasama

Sakuragi

Baba/Yamazaki

Nakamura

Gunji

Oshima

 

Okuda

Sudo

Baba/Takayama

Nakamura

Gunji

Nakata

 

Baba

Okuda

Mori/Yamazaki

Nakamura

Gunji

Nakata

 

Hasama

Baba

Sakuragi/Tsuchiya

Gunji

Nakata

Oshima

 

Hasama 

Baba

Shibuya/Okuda

Fujiwara

Gunji

Nakata

 

Hasama

Baba

Oda/Takada

Fujiwara

Oshima

Nakata

 

Hasama

Okuie

Takada/Baba

Nakata

Gunji

Oshima

 

Suetsugu

Mizuno

Okuie/Ito

Nakata

Hirayama

Azuma

 

Hirayama

Ito

Okuie/Mizuno

Nakata

Hirayama

Oshima

 

Mizuno 

Okuie

Tsukamoto/Aragaki

Nakata

Oshima

Aragaki

 

Wakabayashi

Aragaki

Okuie

Nakata

Aragaki

Hirayama

 

Okuie

Fujiwara

Aragaki/Takahashi

Aragaki

Hirayama

Oshima

 

Takahashi

Takaya

Okuie/Fujiwara

Aragaki

Oshima

Shirota

 

Okuie

Takahashi

Okuda/Arai

Oshima

Shirota

Hirayama

 

Okuie

Takahashi

Shiina/Arai

Oshima

Shirota

Fukasaku

 

Okuie

Takahashi

Tsukamoto/Yamada

Shirota

Oshima

Waterhouse

 

Tanabe

Shiina

Okuie/Takahashi

Oshima

Fukasaku

Waterhouse

 

Shiina

Takahashi

Tanabe/Takaya

Oshima

Nakamachi

Fukasaku

Takahashi

Tsukamoto

Aoki/Tanabe

Nakamachi

Takagi

Kageyama

Oyatsu

Shiina

Yamada/Sano

Nakamachi

Takagi

Hikawa

Hirose

Shiina

Ito/Ishida

Nakamachi

Hikawa

Takagi

TBA

TBA

TBA/TBA

TBA

TBA

TBA
---
Back to Top of Page Why JKA Karate Back From JKA Karate to Karate - Home