On 29th March 2003 the world lost a very senior and accomplished Karate master - the Shotokan Tiger "Tora" Keinosuke Enoeda Sensei of the Japan Karate Association.
Enoeda is a key figure in Shotokan Karate History. He came from the first group of young instructors ever produced by the JKA who 'proved' themselves in the new arena of competition before taking Japanese Karate to a waiting world.
He was Chief Instructor to the KUGB (Karate Union of Great Britain) for over 35 years in which time he inspired generations of Karateka. As a junior in Scotland in the 1970's, I clearly remember Enoeda Sensei's vigorous instruction and his powerful presence.
The recollection of preparing to attempt his grading examinations still makes me mentally leap to attention.
---
Watch the Shotokan Tiger in Action...
---
Memories of a Karate Master
His twice-a-year live-in seminars at Crystal Palace National Sports Centre in London were world renowned for bringing together Karateka from all over the UK and abroad to share training time and friendships.
The last thing I did before coming to live in Australia was to attend Enoeda Sensei's 1981 summer course. I can recall his mastery of Shotokan Karate Techniques, his sheer enthusiasm and the proud contentment he displayed when he was around Karate people.
Enoeda Sensei lived a life completely dedicated to Budo Karate. As Karate Legends go he was without peer and worthy of the name Shotokan Tiger. His presence commanded the attention of anyone near him and his vitality was contagious.
His legacy is his contribution to the development of Shotokan Karate inside and outside of Japan and to the lives of thousands of his students.
---
Enoeda - The Shotokan Tiger
The following is an adaptation of a piece written about Master Enoeda some years ago by his student and friend, Sensei Terry O'Neill of the KUGB
Tora is the Japanese word for tiger.
..it is also the nickname by which Keinosuke Enoeda of the Japan Karate Association was known during his fighting days in Japan.
The JKA is the organisation that represents the Shotokan style of Karate, which has produced a great many famous instructors, each of whom eventually became a famous Karate Master.
Of this elite group, one man stands out for his tremendous fighting spirit.
'Tora' Enoeda is renowned all over the world for his indomitable spirit and truly dynamic teaching style.
A descendant of two samurai lines that date back to the Meiji period, Enoeda carries on the warrior tradition admirably.
---
Early Days
The Shotokan Tiger was born in Fukuoka on the island of Kyushu in southern Japan on July 4th 1935 and practiced Japanese martial arts from an early age. At the age of seven he began Judo. He regularly entered Judo competitions and was once runner-up in the All Japan High School Championships.
At the age of 17, shortly after he gained his second degree black belt, he watched a demonstration of Shotokan Karate Techniques given by two members of the Takushoku University Karate Club in Tokyo. He was won over and the sport of Judo lost a good up and coming player. Takushoku University was well known for its strong Japanese martial arts faculty, particularly its tough Karate section. This was main reason Enoeda enrolled.
After two years he passed his first degree black belt examination, and two years later, aged 21, he was made captain of the club. It was during his university training that he received instruction from the great Karate master Gichin Funakoshi.
---
All Japan Champion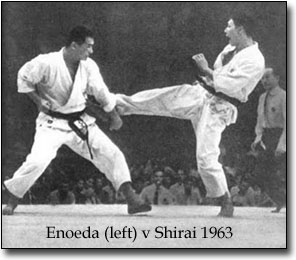 After graduating in 1957 with a degree in commerce, Enoeda was invited to join the instructor's course at JKA headquarters.
He accepted and for the next three years studied on a daily basis under Karate master Masatoshi Nakayama chief instructor of the JKA.
Enoeda regularly entered tournaments and achieved several victories. These included prestigious regional Karate tournaments.
In 1961 he won third place in the kumite division of the all-Japan championships and also placed in the kata event. The following year he repeated his kata placing and finished second to Hiroshi Shirai, a fellow JKA instructor.
In 1963, after another year's hard preparation, Enoeda turned the tables on Shirai in the kumite final and became the all-Japan champion.
---
Strongest Punch in Japan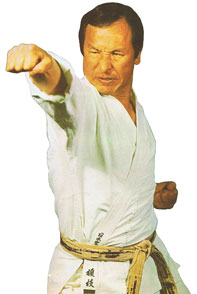 In those days many credited Enoeda with possessing the strongest Karate punch in Japan. This was a result of his tremendously powerful hip action and constant practice of Shotokan Karate Techniques on the makiwara striking board.
Among the spectators at the 1963 championships was President Sukarno of Indonesia who was so impressed with the strength and fighting prowess of Enoeda that he negotiated the services of the Shotokan Tiger. Enoeda spent four months in Indonesia teaching the President's personal bodyguards, police and military.
Following the JKA's policy of sending its best instructors out to spread Japanese Karate, Enoeda began his worldwide travels culminating in his settling in Great Britain.
By developing a countless number of fine Karateka and many leading champions in the art, Master Enoeda has been instrumental in making Great Britain one of the strongest Karate nations in the world. Over the years, he has also coached many celebrities for 'fight scenes' in various movies. Lee Marvin, Michael Caine, Sean Connery and Edward Fox have all defeated their 'enemies' with his help.
---
Charisma of the Shotokan Tiger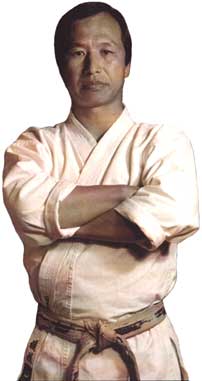 Of all the top Sensei I have seen and trained under, Enoeda the Shotokan Tiger stands out. Of course he is one of the fittest, most powerful technicians but he has another, less definable quality. His energy and charisma - almost an aura - are something special.
He is a Karate master with the ability to bring out the best in a student. He forces you to perform better - to kick and punch with more accuracy and power, to leap into the attack with gusto, to push yourself past self-imposed limits.
The presence of Karate master Enoeda alone demands your very best. You just have to put more of your 'inner-self' into the various movements - nothing less will suffice.
I have trained under this great teacher for more than seventeen years now and he impresses and inspires me as much today as he did the first time I saw him.
When I see his Karate, I think "Yes, that's how it should be done! I want that, I want to be able to move like that - to have that spirit".
I and thousands of others continue to emulate his dynamic approach to the art of Karate. I know he is only flesh and blood and therefore his level must be attainable, then again there are many species of cat but only one Shotokan Tiger!
---
Back to Top of Page Back from Shotokan Tiger to Karate - Home