Sensei Purandar Sarkar, 5th Dan - Profile of a Shotokan Karate Master
by Arijit Chakraborty
(Kolkata, India)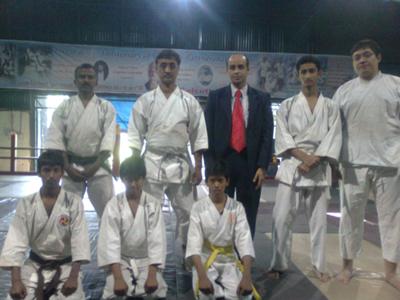 With AISKA Team & Sensei Sarkar
Sensei Purandar Sarkar 5th Dan, is the first JKA India Black Belt. He won the accolade from JKA in 1981 and thereafter had an unchallenged kata and kumite track record in JKA Nationals in India and also in AIKF Tournaments. Sensei represented India in Commonwealth Games and World Karate Tournaments and has trained under Sensei Enoeda, Sensei David 'Ticky' Donovan, Sensei Yahara, Sensei Maeda and Sensei Tamang, formerly of JKS.

Sensei Sarkar is the disciple of Sensei Anil Sinha, the pioneer of Shotokan Karate in India and living inspirations of 2 generations of karate-ka in India and abroad. He subsequently created AISKA and is the Chief Instructor of the association. Sensei Sarkar continues teaching, training and produced many National Champions. He believes in constant research, he actually implements body mechanics, physiology, anatomical principles, nutrition science, student psychology etc in his training and teaching. The WB headquarters dojo of AISKA is at Calcutta Judo Club.

Sensei Sarkar comes from an illustrious family of Yoga Masters and freedom fighters. His teaching, perfect techniques, masterful insight, dynamic interpretation and continuous R&D are perhaps unparalleled in Indian Karate-do today. Sensei is also one of the head honcho of the West Bengal Karate Association (WBKA) and relentlessly fights for the propagation of true Karate-do without any political or financial interests. He is also highly regarded as a scientific and technology driven coach by Sports Authority of India (SAI)

I have been fortunate to have trained in Shotokan Karate under his able tutelage and still continue to fine tune my techniques under his supervision. Sensei Purandar Sarkar continues to drive us with his genius and inspires us towards perfection in all our endeavours.

Oss Sensei!