Sensei Anil Sinha, 5th Dan JKA, JKA India Chairman: Interview of a Karate-do Missionary and Legendary Master
by Arijit Chakraborty
(Kolkata, India)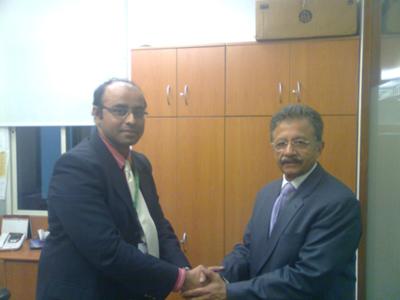 with Sensei Anil Sinha
By Arijit Chakraborty
National Special Correspondent - WMA, Mumbai, India
South Asia Correspondent- The Shotokan Way (TSW)


Sensei Anil Sinha is one of the most respected and revered names in the Karate world, not only in India but also in South Asia. Sensei Sinha, fondly regarded by us as the "Shotokan Tiger of Indian Karate" is a former disciple of the Late Sensei Keinosuke Enoeda and Sensei Bob Poynton of the Karate Union of Great Britain (KUGB). Sensei graded to Shodan way back in 1973, under Enoeda Sensei himself. Sensei Anil Sinha is the General Manager and Head of Advisory Services of IFC, South Asia and has a global footprint when it comes to professional success and fulfillment.

In this close-up of this remarkable Master, he shares his deep insight, passion, unwavering enthusiasm, focus and vision for karate-do and martial arts in general. On behalf of TSW and as a student of this great Teacher, I express my heartfelt thanks and sincere gratitude to Sensei for granting this interview, squeezing valuable time for us, from his hectic schedule.

TSW Oss Sensei, first of all, a Big Thank You for kindly granting this interview!

Sensei Anil Sinha Oss Arijit ! I am glad to share my views.

TSW Sensei, please tell us about your karate career.

AS: I started Karate training in UK in the 1960's under Sensei Enoeda, Sensei Bob Poynton, Sensei Andy Sherry, Sensei Terry O'Neill at the Red Triangle dojo. They were the 'top guns' of the time. The training was tougher and grueling by today's standards and ranks / belts were meant to be really achieved. I was just completely blown away! I graded to Shodan under Sensei Enoeda in 1973, then in 1977 I participated in the JKA world Championships where I was ranked 16th in the world. I was also an All England Universities Karate Champion. Enoeda Sensei really epitomized the 'Shotokan Tiger' The British karate ka demonstrated extreme sharpness in techniques.Then I came to India and started the YMCA Dojo in Kolkata in 1975, this is where hundreds of diligent students trained, including you. The rest as you know, is history!

TSW Sensei, please share your experience of Enoeda Sensei and Nakayama Sensei…

AS See, Enoeda Sensei had the biggest influence on my karate. He was truly the Tiger! I saw Nakayama Sensei at a late age, for me it was his knowledge, humility and vision. His kata was something to behold, attacking and blocking simultaneously with the same technique!

TSW Sensei, kindly share your thoughts on Tanaka Sensei and Osaka Sensei

AS: Tanaka Sensei is the Modern Day Samurai! An extraordinarily powerful and technically sound Karate Master! Be in one of his classes, you feel the power, the bold spirit. The JKA triangle now is Sensei Ueki, Tanaka and Osaka. Whenever I want to toughen up my spirit, I think of Enoeda Sensei and Tanaka Sensei. Osaka Sensei is the modern day perfect technician, with external brilliance and tremendous internal strength. See his 'Sochin' kata demonstration, you will understand. Karate is very much external nowadays, so please change and develop power internally.

TSW Sensei, we are all eager to be guided by your methods of training.

AS I do kihon training with regular kata work-out. I do light weight training and also practice Muay thai and tai-chi to supplement karate. These additional martial arts actually develop and improve one's karate. I do squats, sit-ups and jogging for stamina.

TSW Sensei, please share with us the training at the JKA Camp at Goa this year under Ueki Masaaki Shihan and Nemoto Sensei.

AS Sensei Ueki is a teacher of teachers! He is JKA Chief Instructor. At 73 years, he moves faster than 25 year olds. He demonstrated mae-geri at faster speed than a gyaku-zuki. Sensei demonstrated the art of instantaneous movement and power generation - zero to maximum and again back to zero, while maintaining correct form and technique. He guided us on the path to achieving perfection. Nemoto Sensei, 31 years old, is also an upcoming instructor of JKA and current (2011) JKA Kumite champion. You see, JKA is unique as there is a stream of professionally competent instructors, unlike many other associations which are led by one man. The JKA Kenchusei program drives the quality and maintains the standard globally. Talented junior instructors are taking the positions of seniors as they move on. There is a pipeline of talented teachers. Please understand the gap between talented amateurs and JKA Kenchusei instructors! Moreover all JKA instructors are required to train 2 to 3 hours daily at the Instructors Class. In one man shows, growth takes place till the influence of the main person is there, after that, there is no upliftment. So I train in JKA Karate.

Thanking Sensei for his kindness and generosity

TSW Sensei, you have been studying other martial arts including TAI CHI, how do you find the influence on your karate?

AS I supplement my karate training with Muay Thai and Tai Chi. Muay Thai teaches reflex, bag work, realistic power, distancing and is also enjoyable as a sport. In karate, to develop Ikken Hissatsu, it is compulsory to do serious Makiwara training, use plenty of punching routines on punch bags, sand-bags, boards etc. Try to feel the power of your punches, kicks and strikes. Hitting only thin air is impractical. Tai Chi teaches movements, grace, ki power development and martial moves. I try doing all the JKA Shotokan kata in slow motion, tai chi style, they are even difficult to perform in slow motion, demanding perfect balance, timing, coordinated breathing. If you do it slowly, you feel the difficulty to do it with grace. Do kata ultra-slow, breakdown each movement, a lot more power is required, do kata slowly at times to develop 'bio-feedback', or 'muscle-memory'. Tai Chi emphasizes continuity, flowing smoothly, no switching off. Develop, change, train and think!

TSW Sensei, kindly share your valued opinion on the essence of Karate-do.

AS Karate is ippon waza! Go back to training, revisit karate-do. We have so much more to get from the art. We need to perfect our IPPON- WAZA. We need to understand the full implication of kata, their bunkai and oyo. Now is the time to appreciate the deadly effectiveness of kata for self defence as well. Apply kata in Ippon Kumite. Practice variations in ippon kumite. Think deeply; how do you transform yourself to the next level, say from 3rd Dan to 4th Dan?

TSW Sensei, kindly enlighten us with your upcoming activities and plans for JKA India.

AS I want to show that the training of traditional Karate-do never ceases, spirit does not stop, if you train hard daily. Our pursuit towards perfection should be stronger each day, see at almost 60 years, I try to be training every day, my commitment is utmost. I want to bring back the actual Karate-do training, JKA offers that very much. I have plans of intensifying our participation in camps, seminars, tournaments etc. We have presented Osaka Sensei to all disciples in Kolkata, this year. I wish I could also bring Tanaka Sensei again to India.

TSW Sensei, please give your message to readers of TSW and your die-hard disciples.

AS Enjoy karate-do, enjoy tournaments also but remember the deeper aspects of karate, as you grow older. In Shotokan karate, we are still a fraternity. Do not be negative to each other, be positive, continue to work, we are a family. Be self supportive. I am a teacher, I have come to pass on the way of karate, I train as a student. At all Gasshukus, I make it a point to lineup and train.

TSW Sensei, thanks a lot for your time, guidance and sharing your deep insight, Oss!

AS You are welcome Arijit! My best wishes to the success of TSW and wish all martial artists the very best, Oss!