17th WTSKF National Karate Camp & Championships 2017
by Arijit Chakraborty
(Kolkata India)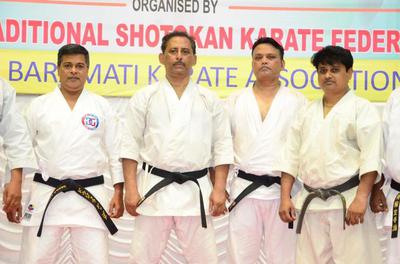 Shihan Chaudhury Flanked by other Senior Instructors of WTSKF
Submitted By: Arijit Chakraborty, National Special Correspondent – WMA
Baramati, 29th May 2017

The World Traditional Shotokan Karate Federation (WTSKF) organised the 17th National Karate Camp and Championships in Baramati, Maharashtra in May 2017, under the guidance of Shihan Sattrajit Chaudhury, 7th Dan – Chief Instructor of the federation. More than 600 karate players from 18 states took part in the annual event. Shihan Chaudhury conducted the karate seminar and taught the following:

• Kihon; fudo dachi, neko ashi dachi, tai sabaki, block using legs
• Kumite; combinations and partner training
• Kata; Heian nidan, Sandan and Gojushiho Dai (for black belts & Instructors)

In the national championships, the top performance states included Maharashtra, Odisha, MP and Tamil Nadu, as per the medals tally. The next WTSKF National Karate Camp will be held in 2018 at Goa. WTSKF is a member of World Traditional Karate Organisation (WTKO) and is recognised by KAI, the official Karate governing body in India.